Corporate Ace
Marketing & Brand Consultancy
Marketing & Brand Development
Winning formula for developing your brand, increasing sales & increasing market share
Business Development & Training
Training | Personal Development | Mentoring
Brand & Business Development
Advertising | Marketing | Business Development | Training
"If you can't explain it to a six year old, you don't understand it well enough yourself." – Albert Einstein
The Corporate Ace Approach
At Corporate Ace Limited we believe that complex solutions are best broken down into simple, implementable solutions.
Many years in business and supporting our clients in their businesses is our foundation for sensible, practical, efficient and effective advice and services.
That's our goal… and thats what we help our clients achieve.
Our clients benefit from consultancy services and a growing portfolio of in-house designed and published websites which empower our clients to grow and expand their own businesses.
Our services including helping our clients advertise and market their business online.
We also help clients with other business solutions from brand development to training and mentoring key staff.
The Corporate Ace Work
We provide a clearly defined by range of services.
As part of our advertising services we have been building a portfolio of successful websites in particular sectors over the last 15+ years. A number of our websites are among the most popular in their sectors. This provides our clients with the ability to feature often relevant targeted ads to our users.
Our marketing and brand services include graphic design, website design, web hosting, logo and brand cultivation from concept to implementation.
For a business to thrive, grow and develop both internal and external advice, skills and resources are the key to flourishing.
Our skill based training, personal development and mentoring services help our clients effectively plan, evolve ideas, implement processes and skills to achieve that success.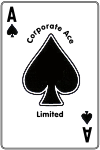 Corporate Ace Limited
The "Ace" up your corporate or business sleeve.